The Sunken School
2014-2018
This research project of finding or rebuilding a place through the memory and imagination seeks to analyze the lack of historical memory in some aspects of Mexican society, and how utopias –in political and personal levels– are build to be possibly never accomplished.
Split into three working stages, the project aims to recreate a place that existed in the suburbs of Mexico city during the 70s and early 80s, a elementary school that went literally under water due to natural and political reasons.
----------------------------------------
The Sunken School (Stage 1)
2014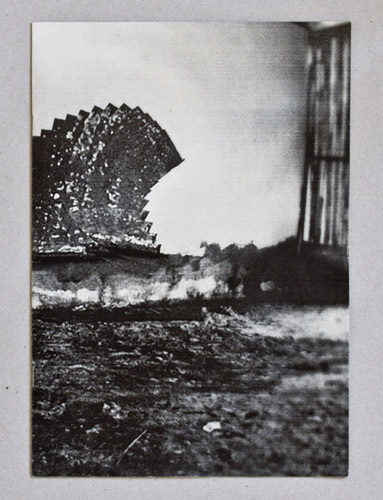 Some Memories of the Sunken School
18 pages publication
Digital print
19.5 x 28 cm
Series of 50
In the first working stage, a series of collage and one publication were developed in order to describe how the school was seen at the time that was existing as a flooded building from my personal experience, keeping the visions safe before they were influenced by another testimonies in the upcoming stages of the research process.




----------------------------------------


The Sunken School (Stage 2)
2015
The Sunken School/The Flood
48 pages publication,
Digital Print,
21 x 29.7 cm
Edition of 50
As the second working stage of this project, this publication confronts the two idealized visions of the Sunken School, the first one coming from my personal perception and how such imaginary environment was created by the fragmented memories, turning the place into a fictional entity despite its real existence. In order to illustrate this concept, a model of the school furniture was built, which represents the link fiction-reality that memory and such inaccessibility can generate.

The second part of the publication contains the testimony of the director and a visual narration of how the school was flooded, using sequences from the previous video work, turning every still image in a stamp that was transferred to the paper in a chemical process.

----------------------------------------


The Sunken School (Stage 3)
2018
The sunken school is a project by Iván Martínez that digs deep into the history of a middle school located on the outskirts of Mexico City. In the early eighties, the unstable ground, which in pre-colonial times was a lake, started swallowing the school, sinking it and drowning it in water. As the ground devoured the buildings, it also devoured the project of public education.

This overwhelming image, recorded as an imprint in the artist's memories, became a juncture, a turning point when thinking of the overall landscape of the country: a building covered with water, floating pieces of furniture, garbage everywhere. Years later, and departing from this personal and intimate image that was constantly present, Martínez decided to investigate and inquire the history of the place. The sunken school, erased by time, and as a symptom of how the country copes with its issues, is now a soccer field.

Martínez began a journey to recover the local history of the school, the shared history of his upbringings in the periphery of the city. When searching for documentation, neither the government's archives and files nor the old newspapers had information about the school whatsoever.

Through neighbors of the site, he was able to follow the thread of the story and contact former students and teachers. To recover the history of the sunken school suddenly meant a deception. No big earthquake, no mythic story, no big disaster had swallowed the building –it was politics, it was corruption.

Art, in this case, becomes a strategy of storytelling. Through his process of historical recovery, Martínez conserves the testimonies of its existence. By conducting interviews, and collecting documentation, he created an archive of what is lost. Inspired by the literature of Juan Rulfo and Julio Cortazar, Martínez uses his body of work as the perfect metaphor of the social and political landscape of the country.

The school as a symbol can represent a number of things: the place for configuration of ideas, a collective space where we live our childhood, politically, where the formation of future citizens and civic values takes place. It also represents order, discipline, education, and knowledge. To let a school sink, with no trace after its disappearance, is to allow the sinking of a whole a system. Through the collection of drawings, documents, and blueprints, the artist tells the story of a school, the story of public education, the story of the failed project of a country.

Andrea Valencia, 2018


----------------------------------------